Birmingham's
Premier Design Team |
Marble Countertops
With its classic charm and natural sophistication, marble countertops will enhance your kitchen, bathroom, or other spaces. Whether you want to update your kitchen or re-imagine your bathroom, marble will blend elegance with functionality for a gorgeous focal point that can stand up to the demands of your household. With unique veining patterns and rich hues, each slab of marble gives you a visually striking surface that will elevate your entire room. At Brian's Flooring & Design, we carry beautiful pieces of marble to create the surface that complements your style while matching your lifestyle needs. Contact us to find the marble countertop that's right for you.
Features of Marble
Marble's renowned cooling properties make it an excellent choice for your kitchen, particularly if you enjoy baking and pastry work. With a smooth, non-porous surface that resists heat, it provides a sturdy platform for cooking and meal preparation. In the bathroom, marble's durability and moisture resistance make it perfect for vanities, creating an elegant space for your daily routines. Its polished surface offers a hygienic, easy-to-clean solution that blends luxury and practicality into your bathroom design.
Countertops in kitchens and baths take a lot of abuse. This doesn't mean you shouldn't use marble, it just means you need to be mindful of spills, and blot them up quickly. Here are the best ways to take care of your marble countertop.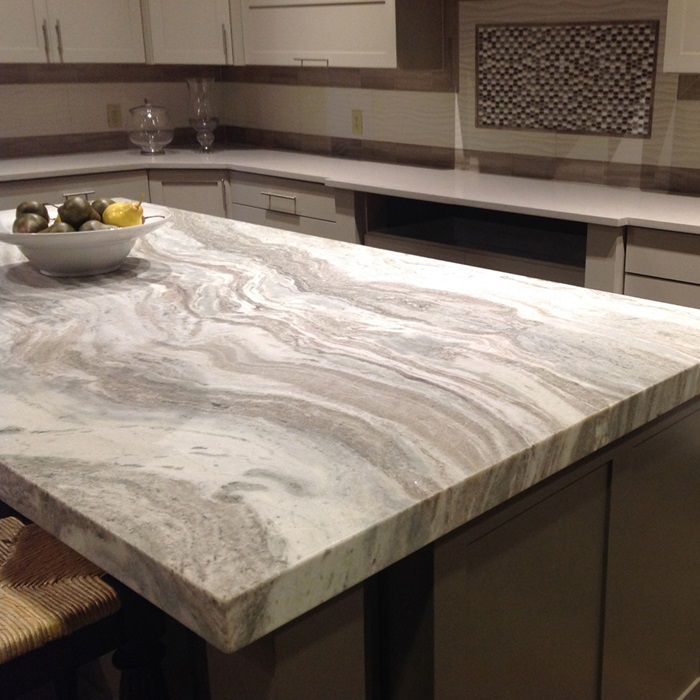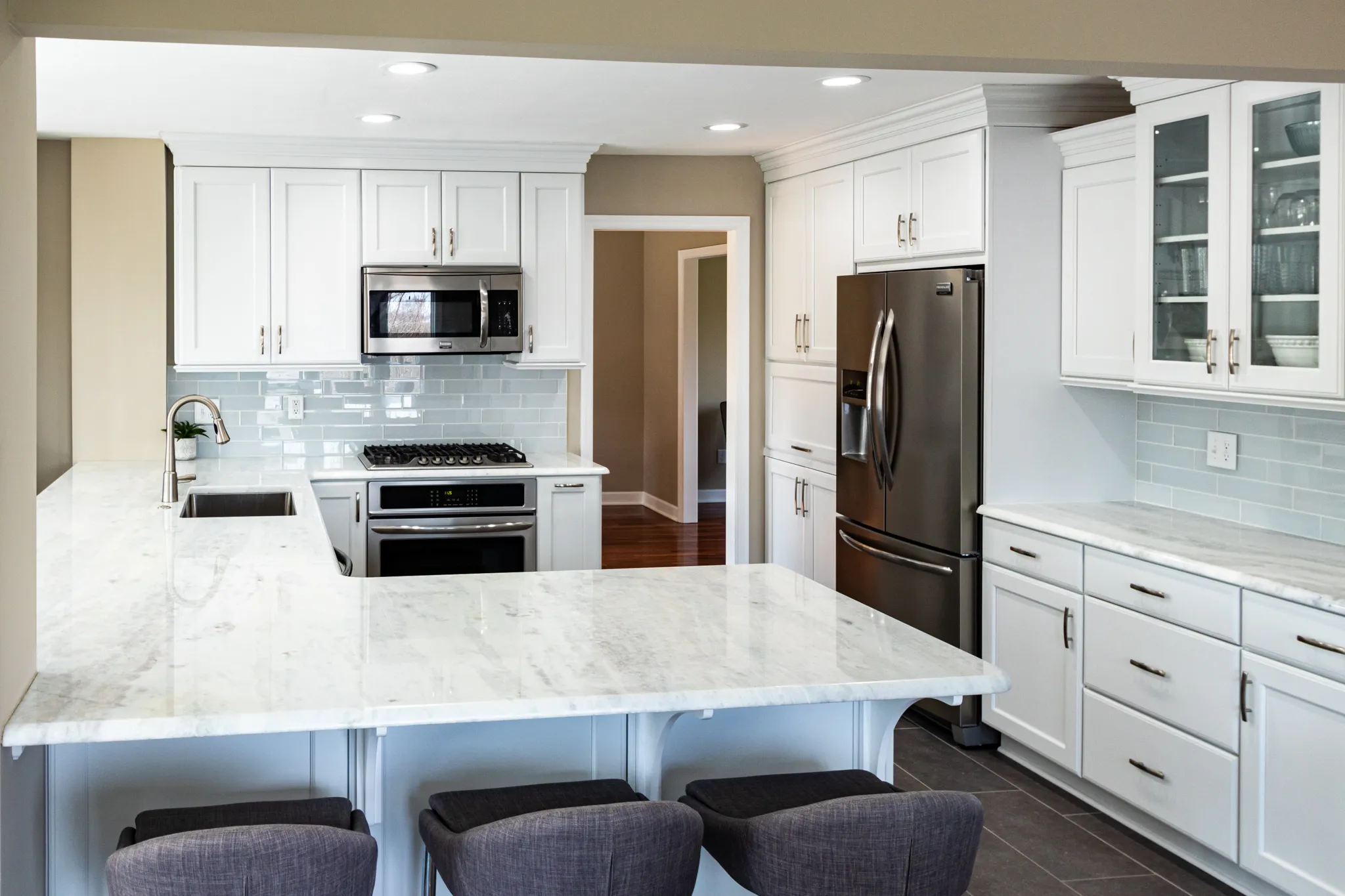 Sealing
While there are plenty of ways to clean marble countertops and keep them looking great, an added layer of protection is often needed. A sealant can be a key part of taking care of marble countertops.
Sealers can reduce staining and etching on marble countertops as sealers act as a barrier between the marble and other substances. The layers give you a little more time to clean up spills before they stain.
Marble countertops can be sealed as often as needed, based on the countertop and the formula of the sealant you use. It is safest to reseal your marble every six months to a year. A simple way to determine if it is time to seal your marble top is to put a small puddle of water on the surface, if the water begins to be absorbed by the stone quickly, then it is time to add marble sealer to the stone.
Daily Maintenance
Cleaning with gentle soap on a regular basis is enough to keep marble countertops looking great after everyday use.
Blot up Spills Immediately. Never rub or wipe a spill; blot immediately and follow with a solution of pH neutral dish soap and warm water. Dry with a soft towel. The goal is to keep marble as clean, and dry as possible. The longer a substance is left on top of the marble, the more likely it is to stain.
Never use a commercially available kitchen cleaner for marble countertops. Avoid acidic substances, vinegar, harsh chemicals, ammonia, bleach, and anything with an acid or that is "gritty." Create your own cleaner. Put 1 tablespoon of a gentle dish soap in a spray bottle, and fill with warm water. Shake. Spray on the counter for cleaning after each meal, and remove the solution with a damp soft cloth; follow with a dry towel.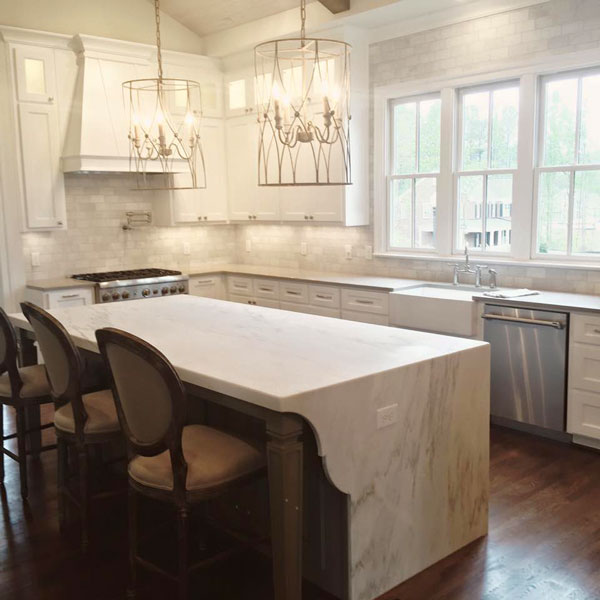 Special Care
Address new stains immediately. Stains from oils, such as cooking oil, can be removed with a gentle cleanser or a few drops of ammonia. Organic stains, from food or liquids such as coffee and tea, can be removed with a small amount of hydrogen peroxide or ammonia.
While mild detergents, peroxide, and ammonia work well on most stains, some may need to be removed physically. Paint stains often need to be carefully removed with a razor. Water stains and water marks can be buffed out with steel wool. Be sure to remove stains before they become permanent fixtures on the countertop so your marble countertops look great for years to come.
Cleaning Do's and Dont's
DO
Clean surfaces with mild pH neutral dish soap or specially formulated marble cleaner.

Thoroughly rinse the marble surface with clean, clear water after washing and with a new cloth dry the surface thoroughly.
Blot up spills immediately, never wipe.
DON'T
Use vinegar, lemon juice, or other cleaners containing acids or harsh chemicals.

Use commercially available bathroom cleaners, grout cleaners or tub & tile cleaners on marble surfaces.

Mix bleach and ammonia; this combination creates a toxic and lethal gas.

Never mix chemicals together unless directions specifically instruct you to do so.